Karaj leguloj, the 72nd Esperanto Sumoo is about to start. For those unaware, the Sumoo is a 15-day event whereby you commit to reading a set number of pages per day. In this particular case, the book is written in Esperanto.
Esperanto is one of my better languages. I have a C1 in writing and reading it, based on the KER exam I took in 2017 in Moscow. For those used to ILR scales, that's equivalent to level 3. I've read dozens of books, many originally in Esperanto, the rest translations from various source languages (Hungarian, English, Russian, и так далее). Weekly I get email notifications about new Esperanto books being published. A quick look at my email and I can say about 5 books a week are published in the language.
The Sumoo happens six times a year, so this November Sumoo will be the last for 2021. I had a great time in the five previous ones, mostly reading non-fiction but not finishing them. (Finishing is not the point; number of pages is.) This time I've decided on fiction, and reading till I'm done.
The book is Kromosomoj, by Lorjak.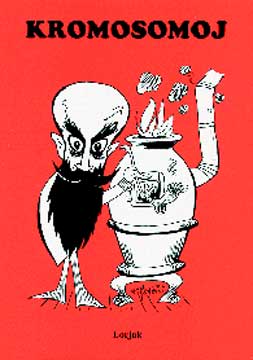 The book's 152 pages, so 10 pages a day should do it. The book is sci-fi-like: Is the murder-instinct hereditary? Sounds good, right?
Timing is everything, and I'm about 20 pages away from finishing the great
Empire of the Sun
. So, question is: Start another tonight and finish it by Sunday for the Sumoo start? Or just start
Kromosomoj
right away? Oh, first world problems...